Exhibitor Info

Please read the following information carefully and ensure that you have reviewed your Sponsor/Exhibitor Listing at https://www.iscb.org/ismbeccb2023-exhibitors-sponsors/exhibitors If you have questions contact:

Steven Leard
ISMB Conference Director
This email address is being protected from spambots. You need JavaScript enabled to view it.

ISMB/ECCB 2023 is a table top-display exhibition held in Forum 3, lower level of the Centre de Congrès de Lyon located at: 50 Quai Charles de Gaulle, 69006 Lyon, France.
Virtual Exhibit Booth details
Find details to begin your planning for the virtual booth at:
https://help.junolive.com/exhibitors-speakers/getting-started-for-exhibitors
Attend one of the training sessions for virtual exhibitors offered by JUNO at:
https://help.junolive.com/exhibitors-speakers/attend-a-live-training-session
Audio Visual and Additional Equipment
If you require AV rental or additional equipment please see the catalogue and order form available.
Orders can be made directly to This email address is being protected from spambots. You need JavaScript enabled to view it.

If you have questions contact This email address is being protected from spambots. You need JavaScript enabled to view it.
Catalogue: Click to download
Order Form: Click to download
Badges
Exhibitors who are participating in Lyon should collect their name badges from the ISMB/ECCB 2023 Conference Registration located in the Hall Terreaux as shown on the PDF
The registration desk will be staffed during the following hours:
Sunday, July 23
8:00 AM – 10:00 AM
(Morning and Full-day Tutorials Only, Student Council Symposium)
11:30 AM - 7:30 PM
Monday, July 24
7:30 AM – 6:30 PM
Tuesday, July 25
7:30 AM – 6:30 PM
Wednesday, July 26
7:30 AM – 6:30 PM
Thursday, July 27
7:30 AM – 12:00 PM
Carpet
The exhibit hall does not include carpet. Carpet can be ordered from the conference venue, GL Events, at a cost of €12.00 (before tax) per square meter. The display space is 2.5m wide x 2.5m deep.  This recyclable carpet can be ordered by contacting This email address is being protected from spambots. You need JavaScript enabled to view it..  All carpets are Dark Mottled Grey

Catering for Exhibitors
If you require catering please contact This email address is being protected from spambots. You need JavaScript enabled to view it.
Please note NO outside food or beverages can be brought into the exhibit hall.
Conference Venue and Location
Centre de Congrès de Lyon located at: 50 Quai Charles de Gaulle, 69006 Lyon, France.
Options for getting to Lyon are available here:
https://www.iscb.org/ismbeccb2023-general-info/faq#airport
Damage to Premises
No nails, screws or other fixtures may be driven into any part of the premises including the floors. Should any damage occur, the Exhibitor would be invoiced for repair charges incurred.
Delivery Information / In-house Transport
Deliveries have to be done the set up day (23rd July) and the Exhibitors must be present during the delivery on its booth or must be represented.
Exhibitors can hand carry in their display and materials at no cost or can be delivered on July 23 and delivered by the conference staff, GL Events, at no cost on July 23. Exhibitors must be present (or their representative) for the delivery to their booth between 12:00 and 16:00. 
Deliveries can be made in advance of July 23 but are charged by GL Events at €150,00 +VAT per day.
If you require a company to assist with customs clearance and deliver you may wish to consider using the Lyon Congress Centre's preferred provider: Clamageran" https://www.clamageran-expositions.fr/en
DELIVERY - REMOVAL
All packages must be delivered during set-up time with a package label (see below), directly to the exhibitor or the organizer, and recovered during dismantling, with the exception of ordered services.
All packages left at the end of the dismantling will be thrown away.
Lyon Convention Centre is not responsible for deliveries and removal of exhibitor packages, and is not a transport contractor. There is no loading dock, please arrange for a truck with tailgate.

STORAGE
For security reasons, empty package storage is forbidden in the exhibition and delivery areas of Lyon Convention Centre. You can order this service from Lyon Convention Centre (ref SEV - 3cbm at the most per exhibitor) or outsource to an external contractor.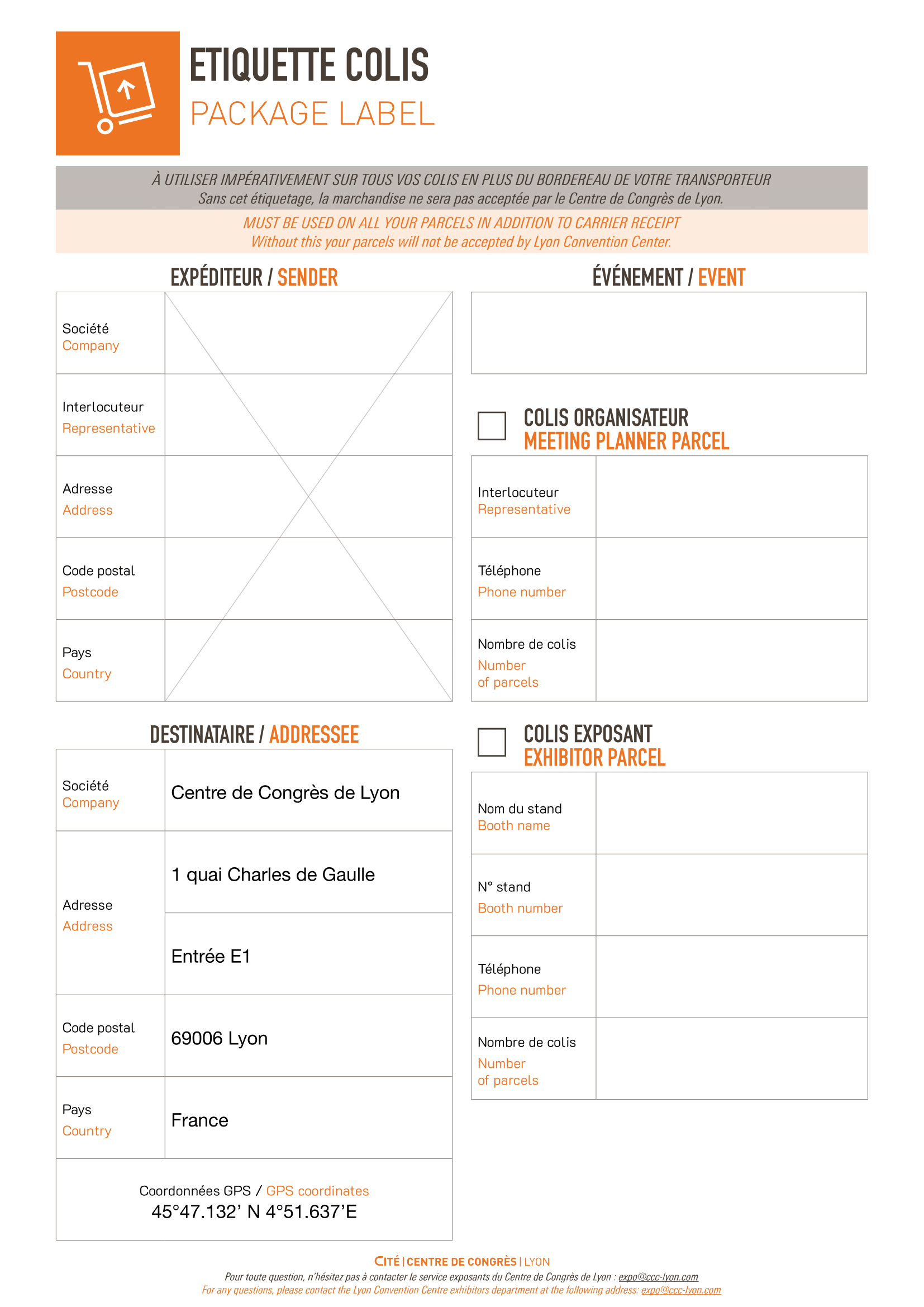 Click to download pdf
Demonstrations
Demonstrations and other special activities must be located so that crowds will be comfortably contained within the contracted display space and not blocking any of the aisles. Distracting activities are subject to adjacent exhibitor and ISCB approval. Exhibitors may not play loud music on their stand.
Exhibitor After Hours Access
Exhibitors are allowed access to their stands during set up and tear down hours as well as one hour prior to and one hour after official opening hours. Exhibitors requiring access beyond these times, must receive approval from an ISCB representative.
Exhibitor Package
Your display package includes:
Exhibition Schedule

Installation
Sunday, July 23: Noon—4:00 pm
Display Hours
Sunday, July 23: 7:30 pm - 9:00 pm (Opening reception)

Monday, July 24: 9:30 am - 4:30 pm
Tuesday, July 25: 9:30 am - 4:30 pm
Wednesday, July 26: 9:30 am - 4:30 pm
Thursday, July 27: 9:30 am - 2:00 pm
Dismantling / Exhibitor Move out:
Thursday, July 27: 2:00 pm
Schedule at a glance:
https://www.iscb.org/cms_addon/conferences/ismbeccb2023/schedule/schedule.php
General Conference Information

General Information on ISMB/ECCB 2023 is available by visiting: https://www.iscb.org/ismb2022-general/faq 

If you require additional information contact This email address is being protected from spambots. You need JavaScript enabled to view it.
Helium Balloons
Helium balloons are not permitted.
Hotel Accommodation
The ISMB/ECCB organizers through ISMB's official housing partner bNetwork are able to offer a variety of accommodation options including some adjacent the congress centre.
Full details on booking are available at: https://iscb2023.bnetwork.com
Indemnification
It is understood that the exhibitor assumes entire responsibility for and agrees to protect, indemnify, defend and save ISCB, ISMB, ECCB and the Centre de Congrès de Lyon and their respective consultants, agents, directors, employees, licensees and assigns them harmless from and against all claims, losses and damages to persons or property, governmental charges of fines and attorney's fees arising out of or caused by exhibitor's installation, removal, maintenance, occupancy or the use of or part thereof negligently or otherwise, excluding any such liability caused by the sole negligence of ISCB, ISMB, ECCB and the Centre de Congrès de Lyon, or its employees and agents.
The exhibitor shall indemnify the ISCB, ISMB, ECCB and the Centre de Congrès de Lyon, against, and hold it and its representatives harmless from complaints, suits or liabilities resulting from negligence of the exhibitor in connection with the exhibits use of display space. ISCB, ISMB, ECCB and the Centre de Congrès de Lyon shall have no liability for loss, damage or theft, through any cause, of goods, hand carried items, exhibits, or other materials owned, rented or leased by the exhibitor. Personal effects, souvenir handouts and other small, easily removed valuable items should not be left unattended. In no event will ISCB, ISMB, ECCB and the Centre de Congrès de Lyon have any liability for incidental, consequential, special, indirect or punitive damages for any harm arising from, or related to, the use of exhibit space under the contract agreement.
Internet
Complimentary wifi is available in the exhibit area - however if you require a dedicated internet connection for demonstrations, etc please contact This email address is being protected from spambots. You need JavaScript enabled to view it.
ISCB Exhibitor Rules and Regulations
Please review the ISCB Exhibitor and Technology Track guidelines for presentations available here. 
Leaflet Distribution
Leaflets may not be distributed from anywhere other than the exhibition stand without receiving prior permission from the Organizers. Leaflets displayed or distributed at any other point throughout the venue, without prior permission, will be removed and destroyed by the Organizers.
Lead Generation
No lead generation technologies are offered at ISMB/ECCB 2023. The conference platform allows delegates to network and exhibitors can use access the platform and this method of networking.
Security
ISMB does not provide security in the exhibit area during off-hours. Exhibitors are encouraged to remove any valuable items from the exhibit area each evening. Please note that ISCB, ISMB, ECCB and the Centre de Congrès de Lyon are not responsible for missing or lost articles at the conference.