ISMB 2002 is pleased to host an evening of "Western" dining and entertainment on Tuesday, August 6 for registered ISMB participants and their guests. The ISMB dinner event is a long-standing, well-attended tradition that has been an opportunity for attendees to relax, meet and enjoy some of the sights and sounds of the host city.
This year the ISMB dinner event will be held in Fort Edmonton Park, Canada's largest historical park, occupying nearly 100 acres in the Edmonton River Valley. Fort Edmonton is a carefully reconstructed "living museum" that is home to dozens of "actors" in period costumes living and working in historical buildings, railways, tramways and Indian villages – all in an effort to provide an authentic flavor of life in Edmonton (and Western Canada) – from 1795 to 1925.
A traditional Western BBQ and buffet (with a wide selection of vegetarian and non-vegetarian dishes) will be provided along with live entertainment and the opportunity to explore and enjoy many of the Park's recreational offerings and activities. Tickets can be purchased when you register for the conference. The cost includes the transportation, park pass, 2 drink tickets, barbeque and entertainment. We hope you will join us at…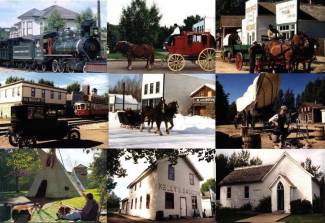 WESTERN BBQ NIGHT AT FORT EDMONTON PARK
Tuesday, August 6
18:00
Buses to Fort Edmonton begin departing from Shaw Conference Centre
18:30
Last bus to Fort Edmonton
18:30
Welcome, drinks, reception
19:00
Dinner served
20:30 - 23:00
Entertainment and recreational activities
from 22:30
Buses back to the conference hotels and the city centre
Late-comer Western BBQ TICKETS
A limited number of tickets for the ISMB 2002 Banquet will be sold from the registration desk on Sunday, August 4. The tickets will be sold on a first-come-first-served basis.