{ C O N T E N T S }
Volume 9, Issue 1

Call for Leadership Nominations
URLs in Grant Proposals
Your Feedback Requested
Announcing MentorNet
E-Mentoring Program


ISMB 2006 News & Updates:

- ISMB 2006 Registration
Now Open

- SwissProt 20

- SIGs & Satellite Meetings

- Introducing the PLoS Track of Oral Presentations

- Student Council Symposium

- Help Send a Student to ISMB

- Advertise in the ISMB 2006 Newsletter




Other Conferences News
and Reports:

- RECOMB Celebrates 10 Years

- Affiliate Focus: OKBIOS

- Travel Fellowships Available

- Key Conferences: Key Dates





Student Travel Fellowships Yearbook
Bioinformatics Books New Online Features
Post your Events & News to ISCB Website
ACCESS THE STUDENTCOUNCIL NEWSLETTER


ACCESS NEWSLETTER ARCHIVES


Copyright © 2006 International Society for Computational Biology.
All rights reserved.
A Note From ISCB President Michael Gribskov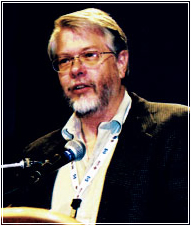 Welcome to the spring 2006 edition of the ISCB newsletter!

When I took over the ISCB Presidency three years ago I made a commitment to work toward growing the international scope of our organization in order to better enable our members to network, build collaborations and affiliations, stay informed of advances and opportunities in the field, and share in a common voice toward advancing the worldwide understanding of computational biology. I have never lost sight of that future vision, although at times I am frustrated by the glacial speed at which progress seems to be made, and our tendency to get caught up in the minutiae, keeping us from maintaining a strategic course. Due to ISCB's limited financial resources, which provide for only a very small paid staff, we always need more active volunteers to help move us closer to a shared vision. I encourage all members to assess their own available time and desire to help improve the state of computational biology worldwide, and then volunteer to serve on one of our committees if your assessment reveals this is a personal priority that you can sink your teeth into. Two years ago I appointed Barbara Bryant, ISCB Vice President, to the position of Public Affairs & Policies Committee Chair, and a year later I appointed Satoru Miyano as Publications Committee Chair. Both of these chairmanships are once again open for new leaders to take the helm, furthering the work of their predecessors and setting new agendas for two of the most important efforts of our professional society – public policy and publications.

Another way to make sure the most active contributors get involved in ISCB is to submit nominations for your respected colleagues to run for elections to the Board of Directors, Executive Committee Officers and Student Council Leaders. The terms of five board members and four officers are coming to an end in January 2007. Some of these board members and officers may choose to run for another term, however, I applaud all of them now for their dedicated service to the Society. I invite each of our members and colleagues to think about ways of contributing to ISCB. During the darkest hours of the Second Word War, Winston Churchill offered "blood, toil, sweat and tears"; ISCB asks only for the toil and sweat. If you have a vision of what ISCB could be, and what you could do to help, speak up, join a committee, nominate a respected colleague, or run for office yourself – in one way or another get involved. If you are new to ISCB, the best way to get started is to become involved on a committee. We try to select Board members from those who are active on committees, and officer candidates from those active on the board. Just complete a nomination form (see related article in this newsletter) or if you need more information write to admin@iscb.org and we will help identify where your time and talents would best serve the Society.

The biggest volunteer effort of ISCB's year is the annual ISMB meeting; our upcoming conference in Fortaleza, Brazil is no exception. As Conference Chair, Goran Neshich is doing a phenomenal job, and as Program Committee Co-Chairs, Phil Bourne and Søren Brunak have guided the paper submission process by putting together a premier group of Area Chairs, who enlisted over 300 reviewers. Over four hundred papers have been submitted and reviewed. We have significantly increased the number of presented papers this year, sixty seven have been selected for presentation at the conference and publication in the proceedings. Review efforts for posters and the new PLoS Track of Oral Presentations, along with the local organizing/local arrangements committees, are being accomplished through an extensive global volunteer effort as well. The fact that the 20th anniversary of Swiss-Prot will also be held in Fortaleza, Brazil immediately prior to ISMB, and that we have two pre-conference days of our most established Special Interest Group meetings and a return of the 3Dsig as a Satellite Meeting, ensures the end result will be an ISMB conference not to be missed. I had the privilege to go to Brazil last fall to speak at ISCB's Brazilian Regional Affiliated Group's annual meeting, the AB3C X-Meeting, and can assure you attending a conference in Brazil is well worth it: I am anxious to get back.
ISCB's mission is to advance the understanding of living systems through computation, and each membership represents a scientist who shares that mission. I am proud to be a member of ISCB, a place where scientists from computational and biological disciplines can meet to exchange ideas, form collaborations, and bring their results to forums such as our conferences and publications. I encourage you to ask your colleagues whether they are members, and if they are not, encourage them to join. Now that memberships are valid for 12 months, rather than tied to the calendar year as was previously the case, there is never a bad time to join. The larger ISCB grows in membership, the stronger is our ability to support meetings and publications, and the louder is our voice in issues of public policy, science funding, and education.
I am looking forward to seeing you again in Brazil!
Michael Gribskov
President, ISCB