{ C O N T E N T S }
Volume 9, Issue 1

Call for Leadership Nominations
URLs in Grant Proposals
Your Feedback Requested
Announcing MentorNet
E-Mentoring Program


ISMB 2006 News & Updates:

- ISMB 2006 Registration
Now Open

- SwissProt 20

- SIGs & Satellite Meetings

- Introducing the PLoS Track of Oral Presentations

- Student Council Symposium

- Help Send a Student to ISMB

- Advertise in the ISMB 2006 Newsletter




Other Conferences News
and Reports:

- RECOMB Celebrates 10 Years

- Affiliate Focus: OKBIOS

- Travel Fellowships Available

- Key Conferences: Key Dates





Student Travel Fellowships Yearbook
Bioinformatics Books New Online Features
Post your Events & News to ISCB Website
ACCESS THE STUDENTCOUNCIL NEWSLETTER


ACCESS NEWSLETTER ARCHIVES


Copyright © 2006 International Society for Computational Biology.
All rights reserved.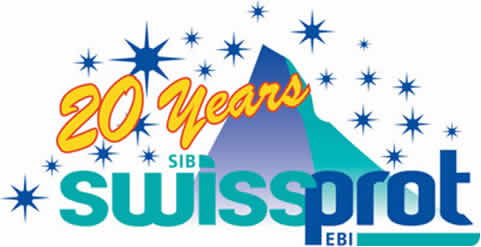 In-Silico Analysis of Proteins
Celebrating the 20th anniversary of Swiss-Prot www.swissprot20.org

Swiss-Prot, the manually curated section of the UniProt Knowlegdebase, will be celebrating its 20 years of service to the scientific community in 2006. To celebrate this occasion it will organize a 5-day conference whose main themes will be:
Knowledgebases, databases and other information resources for proteins

Sequence searches and alignments

Protein sequence analysis

Protein structure prediction, analysis and visualization

Proteomics data analysis
49 internationally renowned speakers have already confirmed their presence at this event and about 1,000 participants from all over the world are expected. For a continually updated list of speakers and their bios, go to: www.swissprot20.org/speakers

Swiss-Prot 20 years & ISMB 2006
With "Swiss-Prot 20 years" and ISMB both taking place in Fortaleza, this beachside city will become the world capital of bioinformatics for 12 days straight. Therefore, the organizers of the "Swiss-Prot 20 years" and ISMB 2006 are working in close association with one another in order to guarantee a strong connection between the two meetings. For instance, the same Brazilian professional conference organizer has been engaged by both conferences, the same headquarters hotel and booking agency is offered to assist participants from each event, and some cross marketing has been implemented to ensure that everyone who intends to go to Brazil for one of these conferences, is aware of the option to also register for the other, increasing the overall scientific quality of a visit to this beautiful and unforgettable country.

Posters
In addition to a line up of amazing speakers, Swiss-Prot 20 is also featuring a poster session to allow all participants to share their research with the rest of the community.
Submission site now open at www.swissprot20.org/poster

Deadline for abstract submission is May 25.

Maximum length for abstract is 200 words.

All submitters will be notified if their poster is accepted by June 05.

All presenters of accepted posters must register for Swiss-Prot 20.

Abstracts of accepted posters will be online after June 15.
For further information, registration, travel arrangements and the latest news, please visit the Swiss-Prot 20 website noted above.

The organizers of Swiss-Prot 20 and ISMB 2006 very much look forward to welcoming you to both of our respective conferences!