{ C O N T E N T S }
Volume 9, Issue 1

Call for Leadership Nominations
URLs in Grant Proposals
Your Feedback Requested
Announcing MentorNet
E-Mentoring Program


ISMB 2006 News & Updates:

- ISMB 2006 Registration
Now Open

- SwissProt 20

- SIGs & Satellite Meetings

- Introducing the PLoS Track of Oral Presentations

- Student Council Symposium

- Help Send a Student to ISMB

- Advertise in the ISMB 2006 Newsletter




Other Conferences News
and Reports:

- RECOMB Celebrates 10 Years

- Affiliate Focus: OKBIOS

- Travel Fellowships Available

- Key Conferences: Key Dates





Student Travel Fellowships Yearbook
Bioinformatics Books New Online Features
Post your Events & News to ISCB Website
ACCESS THE STUDENTCOUNCIL NEWSLETTER


ACCESS NEWSLETTER ARCHIVES


Copyright © 2006 International Society for Computational Biology.
All rights reserved.
Student Travel Fellowships Yearbook
In the past 12 months ISCB has helped fund 10 students to attend ECCB in Madrid, 8 students to attend PSB in Maui, and 4 students to attend RECOMB in Venice. All 22 of these travel fellowships were made possible by ISCB membership dues and generous member donations. In addition to funds for these conferences, ISCB secures annual grant funding to help as many as 90 students attend the annual ISMB conference each year. Please consider making a donation to the travel fellowships fund via the online donation form (see related article in this newsletter), or the next time you renew your ISCB membership. The next generation of bioinformaticians benefits greatly from exposure at these well organized, international conferences.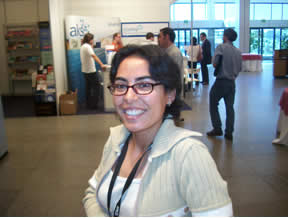 ECCB 2006 Travel Fellowship recipient, Amel Louhichi of Tunisia, is all smiles as she collects her check. Nine additional students were also awarded fellowships to this conference.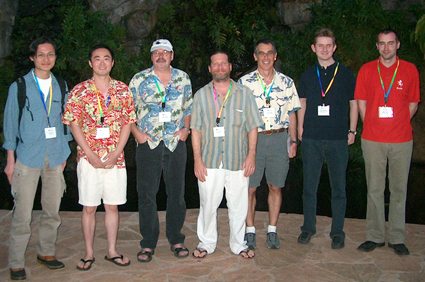 Hawaii proved beneficial for PSB 2006 Travel Fellowship recipients, Zhiyong Lu, Yuk-Lap Yip, Karsten Borgwardt and Reedik Magi, pictured here with Phil Bourne, Larry Hunter and Russ Altman, all past presidents of ISCB. Four additional students not pictured were awarded ISCB funds as well..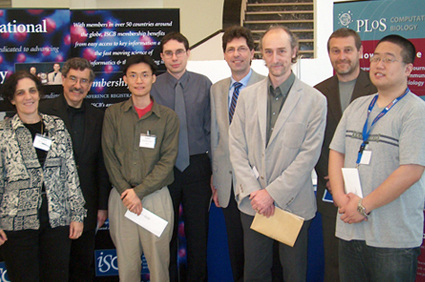 Chiang Tsung Hun, Stanislav Angelov, and Brian Chen pose for the camera after receiving their RECOMB 2006 Travel Fellowship funds from ISCB Board Members Michal Linial, David Rocke, Thomas Lengauer, and Alfonso Valencia, along with RECOMB Steering Committee member Pavel Pevzner.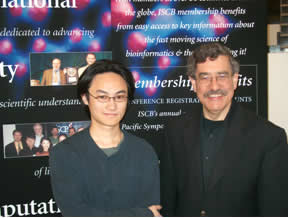 Jim Huang is happy to receive his RECOMB 2006 fellowship check from David Rocke, ISCB Treasurer.