Submit your research today to ISMB/ECCB 2021,
the premier virtual event of the year!

Be a part of the science that makes up this world class event. Don't miss the new schedule-at-a-glance to see how this will be the top bioinformatics conference of 2021. Let ISMB/ECCB 2021 help you share your research with the world.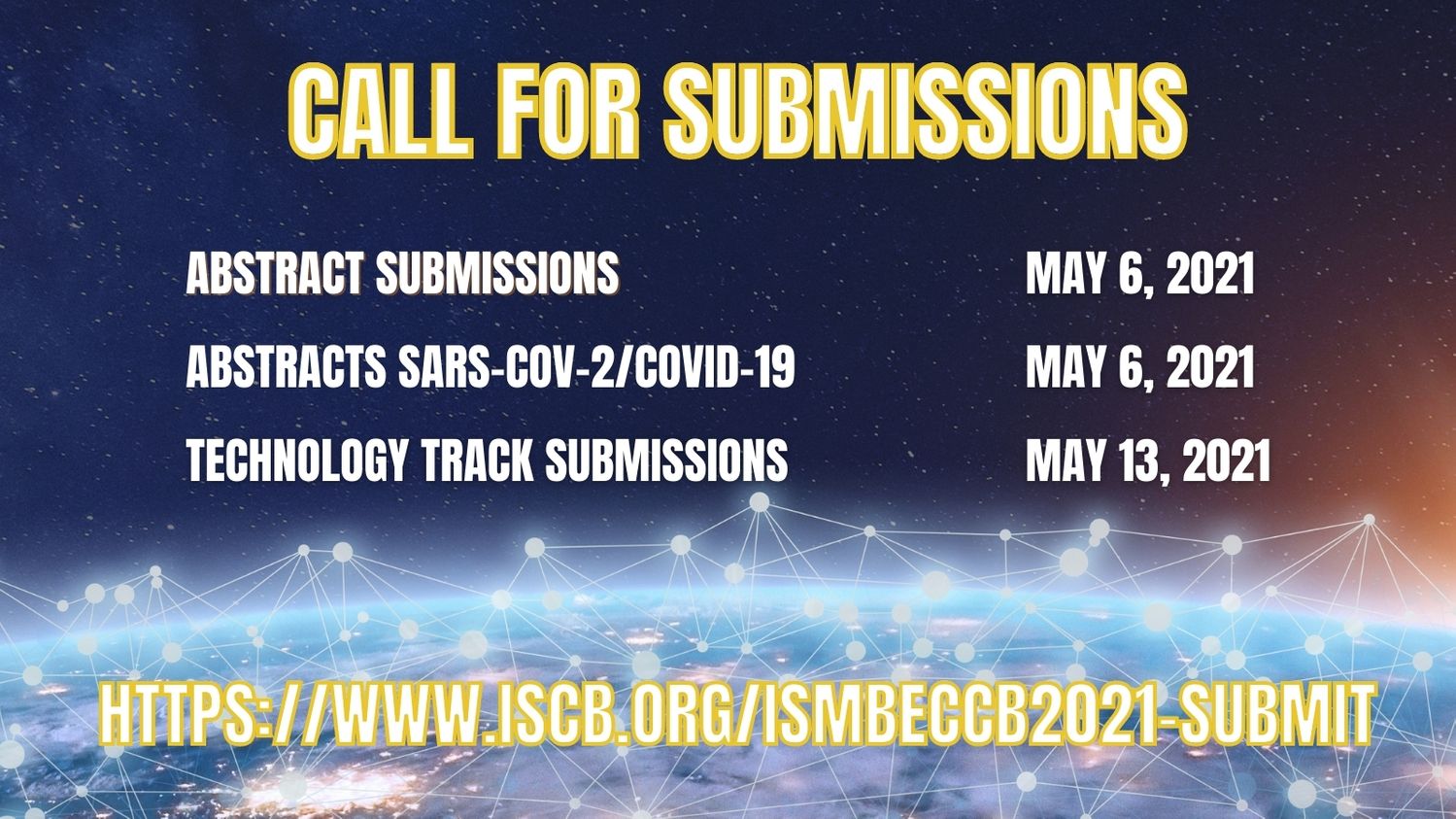 Abstracts Submission deadline
Deadline: May 6, 2021

We invite abstracts for research that is topical to bioinformatics and computational biology, which is in progress (unpublished, formally Late-Breaking Research) or has been published after January 1, 2020 (previously Highlights Track) for consideration for oral and/or poster presentation.

Submit your abstract today!

Call for SARS-Cov-2 / COVID-19 Abstracts
Deadline: May 6, 2021

We invite abstracts for research that is topical to the current SARS-Cov-2 / COVID-19 pandemic for consideration for presentation during the ISMB/ECCB 2021 conference. The presenter should be identified during the submission process. Presenters of accepted abstracts are required to make the presentation themselves, and must register and pay to attend the conference.

Submit your SARS-Cov-2 / COVID-19 Abstract today!

Technology Track Submissions
Deadline: May 13, 2021

ISMB/ECCB 2021 invites submissions to the Technology Track which allows organizations to showcase their software and/or hardware relevant to the bioinformatics / molecular biology community.

Submit today!

Don't miss your chance to present research alongside this stellar line up of world class Keynote speakers!
ISCB Accomplishments by a Senior Scientist Award Keynote


Peer Bork




EMBL Heidelberg 

ISCB Accomplishments by a Senior Scientist Award Keynote


Ben Raphael
EMBL Heidelberg 
ISCB Overton Prize Keynote
Barbara Engelhardt
Princeton University
Eduardo Rocha
Institut Pasteur
Rodrigo A. Gutierrez


Millennium Institute for Integrative Biology




Universidad Catolica de Chile

---