ISCB Accomplishments by a Senior Scientist Award Keynote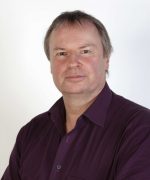 Peer Bork
Director (Scientific Activities)
EMBL Heidelberg
Germany
https://www.embl.de/research/units/scb/bork/

Introduced by: Martin Vingron, ISCB Awards Committee Chair
Time: Friday, July 30, 15:20 – 16:20 UTC
Presentation Title: Analyzing microbes in us and on our planet


The ISCB Accomplishments by a Senior Scientist Award recognizes a member of the computational biology community who is more than two decades post-degree and has made major contributions to the field of computational biology. Peer Bork is being honored as the 2021 winner of the ISCB Accomplishments by a Senior Scientist Award.­­
---
Abstract
Environmental sequencing, that is metagenomics, has become a major driver for uncovering microbial biodiversity and increasingly also for cataloging molecular functions on our planet. The exponentially increasing metagenomes need computational tools and resources to allow researchers to access and digest these valuable data. Based on methods and resources, developed in our group, but also utilizing public bioinformatics resources, here I (i) introduce into our work on the gut microbiome, aimed at basic understanding, but also at medical applications, (ii) show a few examples from tracing the structure and function of microbiomes in different habitats on earth (ocean and soil) and (iii) briefly outline our concept of interacting computational resources, developed and maintained by a network of researchers across Europe.
---
Biography:
Peer directs the Heidelberg site of EMBL (European Molecular Biology laboratory), focusing on scientific activities. He is also senior group leader and head of the Structural and Computational Biology unit (with C. Müller). In addition, he is honorary professor at the universities of Heidelberg and Würzburg as well as the Fudan university of Shanghai.

Peer received his PhD in Biochemistry (1990) and his Habilitation in Theoretical Biophysics (1995). His research group works in various areas of computational and systems biology, currently with a focus on microbiomes. He has published more than 600 research articles, among them more than 80 in Nature, Science or Cell, and is among the most cited researchers in life sciences (>250.000 citations, Hfactor of 211 beginning of 2021). He is or has been on the editorial board of various journals, including Science and Cell, and functions as senior editor of the journal Molecular Systems Biology.

Peer co-founded five successful biotech companies, two of which went public. More than 50 of his former associates now hold professorships or other group leader positions in prominent institutions all over the world. He received a number of awards, among them the "Nature award for creative mentoring" for his achievements in nurturing and stimulating young scientists and the prestigious "Royal Society and Académie des Sciences Microsoft award" for the advancement of science using computational methods. He further obtained two competitive ERC advanced investigator grants and is elected member of the German national academy of sciences (Leopoldina), the European molecular biology organization (EMBO) and the Academia Europaea.