ISMB/ECCB 2021 - Distinguished Keynote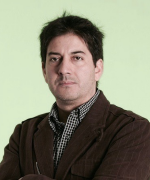 Rodrigo A. Gutierrez
FONDAP Center for Genome Regulation
Millennium Institute for Integrative Biology
Universidad Catolica de Chile
Chile
http://virtualplant.bio.puc.cl/
Introduced by: Marie-France Sagot, Conference Co-Chair
Time: Sunday, July 25, 16:20 - 17:20 UTC
Presentation Title: Phylogenomics and Systems Biology approaches reveal conserved adaptive processes in Atacama Desert plants
---
Abstract
Throughout evolution, plants become adapted to flourish in a variety of biomes and ecosystems, including some of the extreme deserts. In the current changing climate scenario, it is essential to identify the underlying molecular mechanisms that enable plant resilience to such extreme conditions. The Atacama Desert, the driest non-polar desert in the world, offers a unique opportunity to explore plant adaptations to marginal soils and extreme environmental conditions. In central Atacama Desert, we characterized the three pristine and extreme ecosystems that evolved along a natural altitudinal gradient of environmental parameters generated on the western Andes slopes. Among these environmental parameters, we recorded low and unpredictable precipitation patterns, large daily temperature oscillations, low humidity, extremely high radiation levels, as well as soils with consistently low nitrogen levels. Despite these harsh environmental conditions, an interesting diversity of plant species coexist in these ecosystems. We sequenced the transcriptome of the 32 most abundant and persistent plant species, representing 14 plant families with diverse phylogenetic origins, in order to explore signature gene functions underlying plant survival. Using phylogenomics, we compared the protein-coding sequences of these 32 Atacama species to their 32 closest available sequenced species, and found 265 genes under positive selection in Atacama plants versus their non adapted "sister" species. These genes are involved in various developmental, regulatory and metabolic processes associated with environmental adaptation. We chose a set of positive selected genes and based the available functional characterization of their Arabidopsis orthologs we exemplify their potential role in the adaptation of plants to the extreme Atacama Desert. Our study provides new insights into plant abiotic stress tolerance, and improves our understanding of the highly unique, undisturbed Atacama Desert ecosystem.
---
Biography
Dr. Gutiérrez is Full Professor and past Chair at the Department of Molecular Genetics and Microbiology, and current Research DIrector at the School of Biological Sciences of the P. Universidad Católica de Chile. Deputy Director of the Millennium Institute for Integrative Biology and Principal Investigator at the FONDAP Center for Genome Regulation. He has received several awards and honors during his career, including the Howard Hughes Medical Institute International Early Career Scientist award, John A. Boezi Memorial Alumnus Award from Michigan State University and the Friedrich Wilhelm Bessel Research Award of the Alexander von Humboldt Foundation. He is one of the founders of the Chilean Society of Plant Biologists and was the first elected president.
Dr. Gutiérrez's interest is to use systems biology approaches to understand mechanisms to regulate gene expression in response to nitrogen nutrients or metabolite signals in plants using A. thaliana as a model system. He pioneered the combined use of classical experimental biology, functional genomics and bioinformatics approaches to unravel molecular mechanisms of plant form and function. He created tools that facilitate data integration and analysis and enable plant systems biology research. By iteratively combining bioinformatics tools with functional genomics and classical molecular genetics approaches he and his team discovered important molecular mechanisms plants utilize to respond to changes in nitrogen (N) nutrient availability using Arabidopsis as a model system. This is essential for developing strategies that intervene in molecular networks for biotechnological purposes such as improving N use efficiency in plants or modifying the amino acid content of seeds, which are important issues for health, agriculture and human nutrition. It is of paramount importance for modern agriculture to improve crop N use efficiency as world population, food needs and crop use diversification (e.g. for biofuel production) will continue to increase.