ISMB 2014 Exhibitor Floor Plan
The ISMB 2014 Exhibit area is centrally located in the Hynes Convention Center.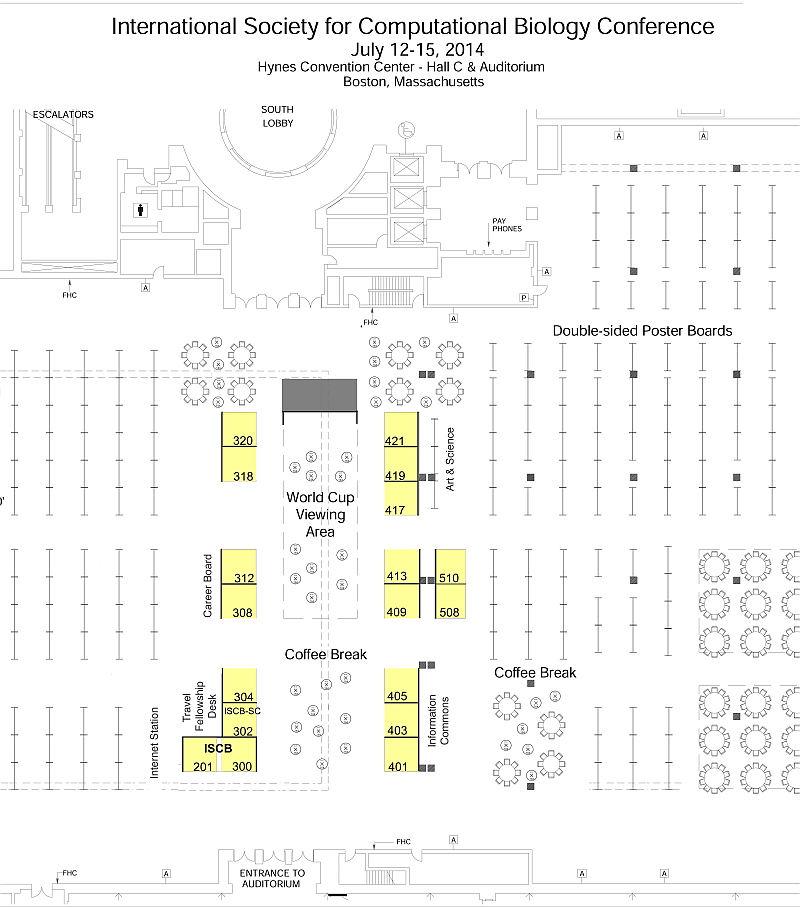 The International Society for Computational Biology (ISCB) (www.iscb.org)  was the first and continues to be the only society representing computational biology and bioinformatics worldwide. ISCB serves a global community of nearly 3,000 scientists dedicated to advancing the scientific understanding of living systems through computation by:
ISCB Student Council (SC, www.iscbsc.org) is an international network of young researchers in the broader disciplines of the field of Computational Biology. SC provides opportunities for networking, career enhancement and skills development for the next generation of Computational Biology leaders. The SC Symposium (symposium.iscbsc.org) is organized as a part of the annual ISMB conference with student presentations, keynotes, panel discussions and a poster session. Come visit our friendly SC representatives at the booth for more information.
The FASEB MARC (Maximizing Access to Research Careers) Program provides a variety of activities to support the training of students, postdoctorates, faculty and researchers from underrepresented groups who are engaged in the biomedical and behavioral sciences research and training.  We offer faculty/mentor with students and poster/platform presenter travel awards for scientific meetings (national and regional) and FASEB Science Research Conferences.  We also sponsor career/leadership development and grantsmanship training seminars and workshops.
The Royal Society journals regularly publish content in the area of molecular and computational biology. 
For more information about the scope and editorial procedures of our journals, please come and have a chat with our representative Dr Tim Holt at booth number 308. 
BIOBASE is a leading provider of manually-curated biological databases, software and services for the life sciences. BIOBASE offers a well-structured data, assembled by highly qualified subject-matter experts, organized in an accessible and easily searchable manner that enables researchers to identify connections between disparate pieces of information and to apply that knowledge to their specific topic of interest.
The European Bioinformatics Institute is part of EMBL, Europe's flagship laboratory for the life sciences. EMBL-EBI provides freely available data from life science experiments covering the full spectrum of molecular biology. While we are best known for our provision of bioinformatics services, about 20% of our institute is devoted to basic research. Our extensive training programme helps researchers in academia and industry to make the most of the incredible amount of data being produced every day in life science experiments.
F1000Research is an original open science journal for life scientists that offers rapid open access publication, transparent post-publication peer review by invited referees,and full data deposition and sharing. The journal accepts all scientifically sound articles, including single findings, case reports, protocols, replications, null/negative results, and more traditional articles.
Oxford University Press publishes some of most respected and prestigious computational biology journals in the world. They include Bioinformatics, an official journal of ISCB, Database: The Journal of Biological Databases and Curation, and Nucleic Acids Research, among many others. Visit our stand to browse books and to pick up a sample copies of journals.
CRC Press, part of the Taylor and Francis Group, is the premier publisher of textbooks, reference books, and ebooks on computational biology and bioinformatics. Stop by our booth to view our latest titles and take advantage of our conference discount.  If you are interested in writing a book please stop by the booth to speak with Sunil Nair about your idea.
Maverix Biomics, Inc. provides life science researchers with a cloud-based platform to manage, analyze, and visualize genomic data, and place new data in context with the latest high-throughput public sequencing data derived from the full spectrum of life, including human, plant, animal, and microbial organisms. For more information, visit www.maverixbio.com.
PLOS is a nonprofit Open Access publisher, innovator and advocacy organization with a mission to lead a transformation in research communication – making it better, faster and more effective. PLOS publishes a suite of influential journals from all areas of science and medicine.
Since 2009, we have built bioinformatics systems to enable analysis at scale, simplify infrastructure, and make software more robust. Our 80-person team of bioinformaticians and engineers can work with your institution's unique infrastructure, workflows, and needs to offer reproducible, scalable analyses and to find answers with 210+ available genomic apps.
www.cambridge.org/lifesciences
Cambridge's publishing in books and journals combines state-of-the-art content with the highest standards of scholarship, writing and production. Stop by our stand to browse new computational and systems biology titles, available at a 20% discount and to discuss your book ideas with our Commissioning Editor, Katrina Halliday. Visit us at the booth or www.cambridge.org/lifesciences for more information.
BioMed Central & SpringerOpen publish over 400 open access journals, including  BioData Mining, BMC Bioinformatics, GigaScience,and Microbial Cell Factories. Discover these and more publications, and discuss with our publishing editors how to get your own research published. Visit us at the booth or springer.com/authors for further details.

top
sbv IMPROVER stands for Systems Biology Verification combined with Industrial Methodology for Process Verification in Research. This approach aims to provide a measure of quality control in industrial research and development by verifying the soundness of the methods used. The project is an effort involving scientist from Philip Morris International.

top
www.wpi.edu/admissions/graduate.html
A leader in science, engineering, and business, Worcester Polytechnic Institute anticipated some of the latest trends in higher education by nearly two generations.
Stop by the WPI booth to learn about our graduate programs in bioinformatics and computational biology, biology and biotechnology, and data science.
The MIT Press publishes books in computational molecular biology and the life sciences.
BioBam Bioinformatics is internationally recognised for its expertise in functional annotation and genome analysis and offers with Blast2GO a user-friendly solution specially for non-model organism research. Blast2GO is the tool-box for functional annotation of novel sequences and the genome-wide analysis of annotation data. Our solutions transform the process of complex data analysis into an attractive and interactive task and reduces the gap between experimental work, bioinformatics analysis, and applied research. Something demonstrated by over 1500 citations. For a free trial or more details please visit: http://www.blast2go.com 
Appistry, Inc., brings the power of genomics to next-generation medicine by making genomics data easier for researchers and clinicians to act on. Appistry empowers researchers with world-class tools, cloud services, and software for streamlining bioinformatics analysis and managing tools, data, and workflows to create production-grade pipelines.