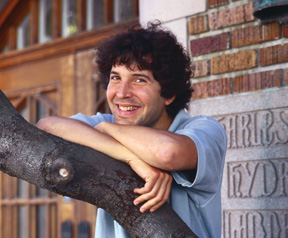 2002 Overton Prize Winner, David Baker (photo credit: University of Washington/Mary Levin)
2002 Overton Prize Recipient: David Baker
The Overton Prize was established by the ISCB in memory of G. Christian Overton, a major contributor to the field of bioinformatics and member of the ISCB Board of Directors who died unexpectedly in 2000. The prize is awarded for outstanding accomplishment to a scientist in the early- to mid- stage of his or her career who has already made a significant contribution to the field of computational biology through research, education, service, or a combination of the three. The first Overton Prize was awarded last year to Christopher Burge of the Massachusetts Institute of Technology for his work identifying and modeling genes in higher eukaryotic organisms.
The 2002 Awards Committee was chaired by David States, and included Donna Slonim, Søren Brunak, Mike Waterman, Anders Krogh, and Larry Hunter. In March 2002, members of the Society were invited to submit nominations to the Awards committee for the 2002 Overton Prize. Nominees from around the globe were considered. Several outstanding nominations were received, highlighting the growing talent in bioinformatics.
The Awards Committee unanimously selected David Baker, Howard Hughes Medical Institute (HHMI) Investigator and associate professor at the University of Washington, in recognition of his outstanding contributions in genomics. His computational technique known as the "Rosetta algorithm," predicts protein folds. He continues to extend and apply his work to drug design, genetics, and health care.
Baker has previously won the HHMI's Assistant Investigator Award, as well as Young Investigator Awards from the Protein Society, the Beckman Foundation, and the National Science Foundation. Since 1988, Baker has established a record of publications in protein folding and outstanding structure prediction using both computational and experimental approaches.
Baker will present a keynote address at this year's Intelligent Systems for Molecular Biology (ISMB) conference in Edmonton, Alberta, Canada, on Wednesday, August 7th, the final day of the conference.