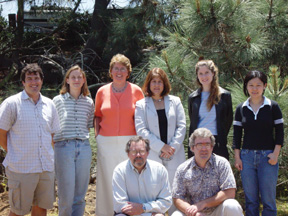 ISCB Staff Team
The ISCB has recently undergone major administrative and behind-the-scenes changes, such as the update of its website and overhaul of its membership database. The Society's newsletter has been revamped and an official history of the Society initiated as well as significant planning accomplished for the next few years of the Society's official conference, ISMB. Those efforts are the products of the ISCB staff, under the guidance of ISCB President Phil Bourne.
Apart from the Society's full-time administrative officer, BJ Morrison McKay (introduced in newsletter 5.1), the ISCB is supported by a second full-time employee, Stephanie Hagstrom. An award-winning meeting planner, Hagstrom works for ISCB as the ISMB Conference Liaison, which includes overseeing nearly every aspect of organization and logistics for the Society's annual conference. When not working, she spends time with her family, is active in Meeting Professionals International, and serves on the board of directors for Mama's Kitchen, a San Diego organization that delivers food to individuals and families living with HIV/Aids.
The rest of the ISCB staff serves the majority of the time for different departments within the San Diego Supercomputer Center (SDSC) and the National Partnership for Advanced Computational Infrastructure (NPACI).
Kim Baldridge, program director for SDSC's Integrative Computational Sciences program, oversees the ISCB staff. Additionally, Baldridge is deputy director of the NIH NCRR National Biomedical Computation Resource (NBCR) at SDSC and founded the Maria Goeppert-Mayer Annual Interdisciplinary Symposium.
In addition to writing and editing articles and press materials for the ISCB, Cassie Ferguson works on SDSC's biweekly newsletter, Online, and the NPACI quarterly magazine, EnVision. A graduate of the University of California, Santa Cruz program in Science Communication, she prefers to spend her extra time in the outdoors with her family.
ISCB graphic designer and newsletter editor, Jennifer Matthews, produces web and print materials for several departments within SDSC as well as for the Scripps Institute of Oceanography's ROADNet project. Matthews also enjoys hiking and running with her husband and their Australian Shepherd.
Group leader of the web and database group in the High End Computing Program at SDSC, Josh Polterock, ISCB's webmaster, provides support for about 200 web applications, and database services to projects at SDSC and NPACI. When not tending to web servers and services, he spends time with his wife, Christine, and three kids, Hannah 7, Sam 6, and Sadie 2.
ISCB finance manager, Chris Smith, is program manager for SDSC'S Integrative Biosciences and Integrative Computational Sciences programs, and the NBCR. He also curates the CMS Molecular Biology Resource and tinkers in bioinformatics when time permits. When not in front of a computer, Smith collects power tools and has employed them on projects from home construction to crafting custom furniture.
Tracy Zhao who works as the ISCB database administrator, created a new database for the membership and implemented a new online payment for the ISCB. She also works as a programmer analyst for SDSC.
---
ISCB STAFF PHOTO
(clockwise from the far left): Josh Polterock, Cassie Ferguson, BJ Morrison McKay, Stephanie Hagstrom, Jennifer Matthews, Tracy Zhao, Chris Smith, Phil Bourne, (not pictured: Kim Baldridge)