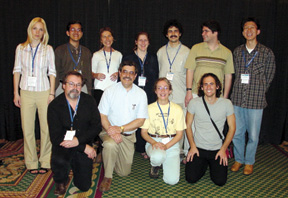 Student Travel Fellowships: RECOMB2002
This year, the ISCB provided travel awards for graduate students and postdoctoral researchers to attend the 2002 International Conference on Research in Computational Molecular Biology (RECOMB), held in Washington DC. Each was awarded a $500 travel fellowship to help cover the costs of attending the conference. The selection was based on geographic origin, field of study, and paper or poster presentation, though presenting a poster or paper was not a requirement for selection.
The winners included: Annette Höglund, a graduate student at Saarland University, Germany; M. Madan Babu, a graduatestudent at the University of Cambridge, UK; Hilary Booth, a postdoctoral fellow at the Australian National University; Dana Pe'er, a graduate student at Hebrew University, Israel; Tomas Vinar, a graduate student at the University of Waterloo, Canada; Sven Rahmann, a graduate student at the Max-Planck-Institut für Molekulare Genetik, Germany; Guang Song, a graduate student in the Computer Science Department at Texas A&M University, US; Claudia Rangel at Claremont Graduate University, US; Aik Choon Tan at the University of Glasgow, Scotland; Yujin Hoshida, a postgraduate student at the University of Tokyo, Japan; and Ydo Wexler a graduate student at the Technion, Israel.
---
PICTURED
ISCB Travel Fellowship Recipients and Board Members (clockwise from far left): Annette Höglund, Madan Babu Mohan, Hilary Booth, Dana Pe'er, Tomas Vinar, Sven Rahmann, Guang Song ,Ydo Wexler, Barbara Bryant, David Rocke, Phil Bourne (not pictured: Aik Choon Tan and Yujin Hoshida)