ISCB Overton Prize Keynote
Cole Trapnell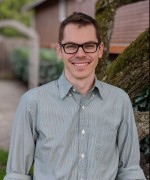 Assistant Professor, Department of Genome Sciences, University of Washington
United States
Presentation Title: TBA
Time: Saturday July 7, 8:30 am - 9:30 am
The Overton Prize recognizes the research, education, and service accomplishments of early to mid-career scientists who are emerging leaders in computational biology and bioinformatics. The Overton Prize was instituted in 2001 to honor the untimely loss of G. Christian Overton, a leading bioinformatics researcher and a founding member of the ISCB Board of Directors. Cole Trapnell is being recognized as the 2018 winner of the Overton Prize.
Biography:
Cole Trapnell is an Assistant Professor in the Department of Genome Sciences at the University of Washington. Trapnell received his bachelor's degree and PhD in Computer Science from the University of Maryland. As a graduate student, he was co-advised by Steven Salzberg, and Lior Pachter from the University of California, Berkeley, where he spent several years as a visiting student. While working with Salzberg and Pachter, Trapnell wrote TopHat and Cufflinks, and assisted Ben Langmead with Bowtie.
Dr. Trapnell studies stem cells and differentiation, primarily using high throughput transcriptome sequencing. He is the principal developer of several widely used open-source software tools for analyzing high-throughput sequencing experiments. At the University of Washington, his lab focuses on finding genes that govern stem cell maintenance and cell differentiation, primarily through single-cell genomics.