Social Events ?
DINNER SUPPORTING ISCB TRAVEL FELLOWSHIPS
(SOLD OUT)
Monday, July 24, 7:30 pm – 10:30 pm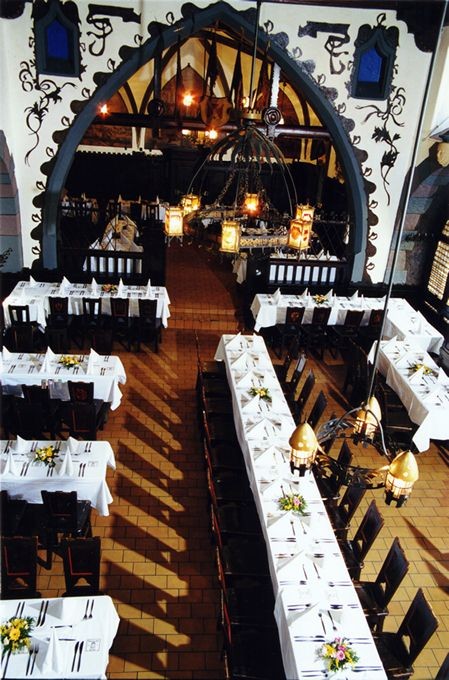 Cost: $42.35 ($35 + $7.35 VAT) - Available to purchase until June 29 during conference registration

Cost Includes entrance, traditional Czech dinner and two drink tickets. Vegetarian options available. All proceeds from this fun evening supports the ISCB travel fellowship fund. Tickets are limited and can only be purchased in advance during on-line registration.
Join conference delegates for a fun evening in support of ISCB Travel Fellowships at U Fleků. The Brewery and Restaurant U Fleků is one of the most famous and most visited Czech cultural venues in Prague.
The first written recording of the venue dates back to 1499 when the house was bought by maltster Vít Skřemenec. The brewery U Fleků is thus the only brewery in Central Europe which has been brewing continuously for over 500 years. The brewery was nationalised with the onset of the communist rule. The original owners, the Brtník family, regained the brewery and restaurant in 1991, after the fall of the regime. U Fleků is not only the most famous Czech restaurant, but also a pilgrimage site for all beer lovers, both Czech and foreign. The restaurant offers Old-Bohemian dishes with true Czech charm

Directions: Download PDF
Address and Map: http://en.ufleku.cz/contact/how-to-find-us/
Website: http://en.ufleku.cz

Please note transportation is not provided to attend this event. Public transit or taxi to the venue are available.

---
RNA COSI Dinner  
***NEW LOCATION***
Saturday, July 22, 7:30 pm
Cost: $40.00 ($33.06 + $6.94 VAT) Available to purchase until June 29 during conference registration.
Delegates are invited to join the RNA COSI for an evening of good food and discussion at Restaurant Esprit, Holiday Inn (adjacent the Prague Congress Centre.

Website: http://www.holidayinn.cz/en/
---
CAMDA Dinner
Saturday, July 22, 7:30 pm
Cost: $40.00 ($33.06 + $6.94 VAT) Available to purchase until June 29 during conference registration. Only as space permits, we may be able to accept late comers who pay €40 in cash directly to the CAMDA organizers by noon, Saturday, July 22.
Delegates are invited to join the CAMDA crowd for great food and informal discussion at the Na Blbym Miste Restaurant. We will meet in front of the convention center at 7:10pm to head there together. Alternatively, you can make your own way. From the convention center, take the underground to the city center (Line C heading north) and exit at the 2nd stop (Muzeum). Then walk to the top of Vaclavske namesti (Wenceslau Square), walk down, take the 3rd turn left (Stepanska ul.) and turn right at the next corner (street V Jame).
This part of Prague was originally built by special decree of Charles IV in the 14th century. The restaurant is in a street with restaurants called Jama (The Pit) and Kyvadlo (The Pendulum). Our restaurant's name translates as "At the wrong place". Draw your own conclusions...
Address:
Na Blbym Miste
V Jámě 9, 110 00 Praha 1
Website:www.prahanablbymmiste.cz
---
Networking Event: Minorities and Women in Science
Sunday, July 23, 7:00 pm
Location:
Esprit Restaurant, 
Holiday Inn Prague Congress Centre Hotel (pay your own way dinner/drinks)
On behalf of the ISCB "Equity, Diversity, and Inclusion (EDI)" community, we invite you to our networking event within ISMB-ECCB 2017. The aim of this social event is to facilitate active discussions on the fair visibility of minorities and women in the scientific community.
You are also invited to join the BoFs organized by the EDI community members BoF A4: Promoting gender diversity in Bioinformatics on Saturday, July 22 (12:45 - 1:45 in Terrace 1 and 5:30-6:30 within BOSC in Meeting Hall IV) and BoF B5: Equity, Diversity, and Inclusion in ISCB and in Bioinformatics? on Monday, July 24 (12:45 - 1:45 in Meeting Hall IA).
We as a part of the EDI community, seek to bring down any barriers faced by members of underrepresented groups and serve as a guide to ISCB on these issues in going forward. We would like to increase and encourage diversity in all its forms, including (but not limited to) academic backgrounds, subject matter, gender, ethnicity, and geographic location. The forum is a place to have general discussions, share resources, find support, and promote the value of diversity within our field.
For more information contact: Malvika Sharan <This email address is being protected from spambots. You need JavaScript enabled to view it.> and Kieran O'Neill This email address is being protected from spambots. You need JavaScript enabled to view it..
---
JPI Young investigators Social
Saturday July 22nd 7:30 pm
Orangery. Glassed and outdoor garden Holiday Inn Prague Congress Center
Ticket admission required
Tickets will be distributed free of charge on a first come, first serve basis at the JPI Career
Development BoF July 22nd 12:45-1:45
Two drinks and small bites are included

Sponsored by Amazon Web Services